Learn How to Play Guitar Online
Meet Mike. Mike is a coffee barrister. He works 9 to 5 at the local coffee shop. He suffers from social anxiety, which is odd considering his chosen profession. Mike wants to make new friends and maybe even meet someone special. The problem is – he never has anything interesting to say when people ask him about his interests.
You see, Mike has no hobbies. His daily routine revolves around getting up at the last possible minute in the morning, commuting to work, making coffee all day, going home, crashing on the sofa, rinse, repeat…
He gets exhausted at the mere thought of having to physically attend fun activities or sign-up for self-improvement courses. This, dear readers, is not how to break away from a self-perpetuating cycle of loneliness. Don't be like Mike.
If you're looking for a fun and convenient way to ramp-up your "cool factor" that's guaranteed to make you the center of attention, pick up an interesting hobby, but not just any hobby, though. Learn how to play the guitar.
Also Read: Ultimate Guide to Learning Chord Progressions
You're now thinking, "Am I too old to learn? Where would I even find the time?"
It's never too late to learn, especially if you can do it from the comfort of your home. Here are the top 10 sites for online guitar lessons and courses for beginners.
Rank
Site
Teachers
Type
Rating
Deals
1st
Guitar Tricks
32 instructors
Subscription-based
9.8/10

● Click Here For A 14-day free trial

● Money-back guarantee

2nd
Jamorama
Mark Mckenzie
Lifetime access
9.7/10
● 120-day money-back guarantee
3rd
Guitar Coaching
Mike Hayes
Lifetime access
9.5/10
● 60-day money-back guarantee
4th
Infinite Guitar
18 instructors
Subscription-based
9.4/10
● Access to a few sample lessons
5th
JamPlay
100+ instructors
Subscription-based
9.3/10
● Click Here For A 7-day free trial
6th
Kid's Guitar Academy
David Osborn
Lifetime access
9.2/10
● 30-day money-back guarantee
7th
Fender Play
19 instructors
Subscription-based
9.1/10
● 14-day free trial
8th
True Fire
200+ instructors
Subscription-based
9.0/10
● 30-day free trial
9th
ArtistWorks
13 instructors
Subscription-based
8.9/10
● Access to a few sample lessons
10th
Guitar Compass
N/A
Subscription-based
8.8/10
● Access to a few sample lessons

● 7-day free trial
Guitar Tricks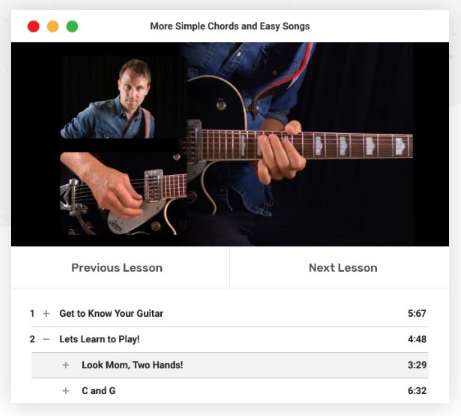 Guitar Tricks is no stranger to the world of online guitar courses. If you're just starting, this is a solid platform to ease you into the instrument without any of the mind-numbing exercises and drills that are synonymous with other guitar lessons for beginners.
You'll start making music right from the first lesson. The best part about it is – the website has lessons for nearly every music hit you could think of. So, if you like timeless classics like Sweet Home Alabama by Lynyrd Skynyrd, the instructors will have you jamming to it in a couple of lessons.
The platform also offers flexible one-on-one 30- to 60-minute online coaching sessions. So, if there's a particular song or technique that's proving to be a bit of a challenge to master, there's an instructor on stand-by to help guide you through it.
Pros
Highly recommended for beginners
Lessons feature well-known songs from popular bands
Easy-to-use platform with a clean, sleek interface
Has thousands of easy-to-follow instruction videos
Offers a couple of free lessons to new members
Cons
Does not offer bass guitar lessons
One-on-one coaching sessions cost a little extra
Jamorama
Let's face it. The human need to connect with others is innate. It's programmed into our DNA. People thrive when they feel that they belong to a group.
If you want to learn how to play guitar alongside others with similar interests, while leveraging the convenience that comes with online learning, then Jamorama may just be what the doctor ordered. The site gives you the best of both worlds.
You get to learn the instrument and connect to thousands of other eager guitar students on the platform's social network. Members can share their progress, post updates, videos, and photos, and even vent about the lesson if it makes them feel better. It's sort of like Facebook but exclusively for guitar students.
Pros
Has 200+ lessons that are tailored for beginners
The platform has an amazing user interface
Has lots of HD instruction videos
The social aspect to the website is a definite plus
Cons
No dedicated bass guitar lessons
The platform has a limited song selection
Guitar Coaching
A guitar is, no doubt, one of the hardest instruments to master. So, you need to enroll in an excellent guitar course to help you get on the right track. Unlike many online guitar programs that take ages to complete (while depleting your bank balance in the process), Guitar Coaching brings something a little different to the table.
The site is chock-full of more than 100 hundred guitar lessons with lots of illustrations, step-by-step video instructions, and HD pictures of all the guitar chords you need to learn to become a pro player.
It integrates lots of entertaining learning aids that make it easy for anyone without a guitar-playing background to learn and become an expert player in record time. The best part about it is, you can learn at your own pace at a time of day that's most convenient for you.
Mike Hayes, the guitar instructor, isn't your run-of-the-mill guitarist. He's been playing for the better part of his life. His music was even listed in the "Best Instrumental" category in the 31st Grammy Awards alongside industry legends like Michael Jackson, Lionel Richie, and Tracy Chapman. With that kind of track record, it's no wonder that Guitar Coaching offers one of the best online guitar courses for beginners.
Pros
Highly-affordable one-off payment for lifetime membership
Comes with a free bonus course of "How to Remember 1000 Songs Instantly"
Ideal for beginners who have no prior guitar experience
Is backed by a 60-day money-back guarantee
Allows you to learn at your convenience and pace
Cons
Doesn't have live one-on-one coaching
The website looks a little dated
Infinite Guitar
Infinite Guitar adopts a subscription-based model for its guitar lessons. If you're looking for a high-quality but yet, affordable guitar lesson-provider, this website is your best bet. The platform hosts more than 1200 instruction videos and has a dedicated team of 18 instructors with a wealth of guitar-playing experience under their belt.
You can pick the one whose style of delivery best suits you. Although a huge chunk of their lessons is geared towards intermediate to advanced players, their beginner lesson collection isn't too shabby either. It will give you the basic skills you need to advance to the next level. For the price, Infinite Guitar certainly gives you a huge bang for your buck.
Pros
High-quality guitar lessons at a pocket-friendly price compared to other websites
Has a free trial plan that gives you full access to a couple of training videos
Has advanced filters that make it easy to navigate through the platform
Cons
Not all 1200 videos on the website are in HD
The site doesn't allow users to download the videos for offline viewing
JamPlay
With more than half a million active members, JamPlay is one of the most popular online guitar lessons providers, and with good reason. The platform has a huge variety of foundation courses that are tailor-made for beginners who are just dipping their toes into the guitar music pool.
It gives you the freedom to browse through the different course descriptions and decide which instructor is the most appealing to you. The course is designed to cater to self-taught guitarists, who never built a solid foundation on the correct techniques to use, as well as individuals who have never picked up a guitar in their lives.
One of the key features of JamPlay that makes it stand out of the pack is that it also offers bass lessons – something that many other online guitar courses leave out.
Pros
The platform features more than 100 world-class instructors
It offers one of the best beginner courses in the market today
Features some iconic songs from music legends
Offers live courses, and live Q&A which streams for up to eight hours every day
Cons
Song list could do with a little sprucing up to feature more iconic artists
Kids Guitar Academy
Here's the thing: The majority of online guitar lessons are designed for adults who want to learn how to play the instrument. But, what about the children who want to learn? Is there a kid-friendly online guitar course available?
The Kids Guitar Academy identified a gap in the market and stepped in to offer online guitar lessons that are exclusively tailor-made for kids and teens. Finally, a fun and constructive way to help your child use their screen-time! The course has more than 90 interactive step-by-step instruction videos for kids and teens that are just starting.
Pros
Customized lessons for children
A one-off payment for any of the beginner guitar courses grants lifetime access to the user
Students have free access to all updates made to the modules
Provides access to a support helpline
Cons
Live one-on-one sessions for the longer lessons would have been ideal for keeping children engaged throughout
Fender Play
When it comes to making electric guitars, no company does it better than Fender. So, it only makes sense then, that they would teach you how to play them as well, right?
This must have been the reason behind the launch of their online guitar course platform – Fender Play. The website is clean, sleek, and easy to navigate. Their beginner lessons are set out in a way that allows members to track their progress and look back at how far they've come.
The content of your specific guitar course is based on the path you choose to take. So you have a choice between acoustic, electric and bass guitar lessons in a variety of styles like country, folk, rock or blues. If you want to learn on-the-go, the Fender Play app is available for both iOS and Android devices, so you don't miss a beat.
Pros
Sleek app and website designs
Great guitar course for beginners
Price package includes ukulele and bass guitar lessons
Fender Play app available for mobile devices
Offers a 14-day free trial
Packages are competitively priced
Cons
Doesn't have an online forum for members to engage
Limited in additional tools and features
True Fire
Since its establishment in 1991, True Fire has emerged as one of the top sites in the world, offering online guitar lessons. The platform hosts more than 700 online courses, 40,000 instruction videos and boasts a roster of more than 200 world-class guitar teachers ready to turn you into a pro in no time.
It's a great site for beginners. However, unlike others that let you follow a chartered path, True Fire lets you choose your starting point, allowing you to begin from wherever you feel the most comfortable.
Pros
Has an extensive catalog with thousands of guitar lessons
Has a massive roster of experienced guitar instructors
Offers private lessons
Cons
The lack of a clear-cut structure may throw you off at first if you're new to the site
ArtistWorks
ArtistWorks operates a little differently from other standard online guitar learning platforms. They offer lessons for a wide variety of instruments in addition to guitar. But, for this guide, we'll hone in on their guitar course.
The lessons for beginners lay a strong emphasis on foundation skills. Mastering these fundamental techniques from the get-go is ultimately what will turn you into a great guitarist.
The section on Rock Guitar Fundamentals, for instance, features lessons that teach students basic concepts like how to tune their guitar, left-hand muting, power pinky, intense thumb, and so forth. There are several instructional videos, complete with practice exercises to have you playing like a pro in no time.
Pros
You can upload a video of yourself playing the guitar for your instructor to assess your progress using the Video Exchange feature
Has free sample lessons that you can use to see your instructors in action before you settle on one of them
The platform has a thriving community area where members can interact, share ideas and ask questions
Cons
Doesn't offer a free trial period to prospective students
Guitar Compass
If you're looking for an online guitar course with instructors who don't just "know" their guitar but also know how to explain things to you clearly so that you understand, then you'll like the teaching style at Guitar Compass. Not only are the lessons well-structured, but they will also get you from beginner to advanced stage in a matter of weeks!
The platform offers some free beginner lessons to get you comfortable with the teaching style of the instructors as you master the basics before moving on to more advanced techniques.
Pros
The premium membership fee is quite pocket-friendly
Has free lessons for beginners
The site is easy to use and navigate
Ideal for beginner guitarists who want the simplest approach to learning how to play
Has a free-trial period
Cons
Song library isn't as diverse as you would expect from a site of its caliber
How to Choose the Best Online Site for Guitar Lessons and Courses
If the current number of websites offering online guitar lessons is anything to go by, this method of learning is quickly becoming the preferred mode of instruction. Whether or not these sites are worth it is an entirely different discussion. That's why you need to pick the right one. So, what should you look for when choosing an online guitar course?
For starters, it needs to be structured in a step-by-step way that's easy to understand and easy to follow. If it's loaded with information and musical terms that the average guitar beginner cannot digest, then there's a good chance that you won't be learning much.
Next, a good online course should be looking to gradually increase the amount of work and complexity as you advance through the lessons. If you're on a site with a subscription-based model that provides too little information to advance through the course in a reasonable amount of time, then it's a sure sign that you're getting scammed.
Finally, the course should have the perfect balance of video and textual content to cater to the preferences of every kind of learner there is. So, every video demonstration should be backed by material in the text and vice versa. That way, you understand the proper hand positioning or playing technique and the reason for it.
At the end of the day, it all boils down to your preferred mode of lesson delivery. The best site for online guitar lessons is one that caters to your individual needs and preferences to allow you to pick up the skill quickly and in a way that you find to be fun and interactive.