If you have a Ukulele, a case is a must for you to have. You see, there is no way that you can travel with your ukulele without having a proper case.
There are many ways to look at it but almost all the ways will end in the same decision. You must need to use one of the best cases for ukulele if you want your ukulele to stay long enough.
Durability is something that we all want and if you do not have a proper case then it will definitely be a tough task to maintain. You might think that having a ukulele at home will not require a case but that's wrong.
Your home is also affected by dust particles and if you do not take care of the situation right then from the beginning, you might end up losing your ukulele which we do not want.
Therefore, let's look at some of the best cases for ukulele that you can go ahead and buy right now!
King Do Way Ukulele Bag Soft Shoulder

The first one that we have is the king do way ukulele bag soft shoulder. This is a simple and a durable one that you will ever need. The product is from the brand King Do Way and the unit costs very low which is a good fit for most people.
There are two different colors available for you to go for. Both the color will cost you the same amount of money so there is nothing to worry there.
Gearlux Soprano Ukulele Hardshell Case
If you are looking for a completely black case then this is the one for you. Though the name says black in it, there are several color combinations that you can go for. The product is made by Gearlux which is a prominent name when it comes to making cases for ukulele. If you are looking for a cheap option to go for then this is not the one for you. This one is a bit costly when it comes to the purchase but you will get a long term benefit when you go with this one.
Hot Seal 10MM Sponge Padding Waterproof Durable Colorful Conventional Ukulele Case Bag
The unit is a perfect mix of price and quality. There are different size options for you to go for starting from 21 inches up to 26 inches. Also, there are 12 color options for you to go for. These are not boring colors but interesting ones with brilliant printed designs.
The fabric thickness is something that you will definitely gain interest into. The thickness is up to 5mm which is pretty strong. Also, the fact that this one is a waterproof unit might come in handy for some people out there.
Hot Seal 10MM Leather Handless Thick Durable Colorful Ukulele Case Bag
This is another product from the brand Hot Seal just like the previous one. The price is a bit low and there are those size and color options available for you too. The product is a lot like other options that we mention just before this review. The waterproof feature is there to be happy. The company is trusted and more importantly, the backpack design is very comfortable to be happy about. The company is a trusted one in the industry and that does come handy too.
Tosnail 23" Heavy Duty Ukulele Cases Padded Bag
If you are looking for a good solution at a reasonable cost then this is the option for you. The product is sold by the brand Tosnail which is a good one though they are pretty new. The dimension of this bag is very good with more than enough space inside.
When you are carrying your ukulele around, you want to make sure that you do not run into any bumping issues and this unit takes care of that. The unit is well made with quality zippers.
Gearlux Soprano Ukulele Hardshell Case
The next unit that we will talk about is the Gearlux Soprano from the brand Gearlux. Gearlux is popular for preparing bags that are strong in design. You can go on long tours when you have one of these with you. There are again different color options for you though all of the colors are dark.
The polyfoam construction is there along with the good interior. The zipper which is a common cause of the problem and should not to worry about at all. The price is a bit higher than most of the ones in this list but it is worth it for sure.
Hot Seal Waterproof Durable Colorful Ukulele Cotton Case Bag
If you are looking for storage, this is the one for you. Like most other bags from Hot Seal, this one also offers three different size options starting from 21 inch up to 26 inch. The best part about this one is the color. There are many color options to go for including unique designs on all of them.
This is more or less a lot like the other two that we reviewed if we do not take the color part into consideration.
Cloudmusic Hawaiian National Ukulele Bag Ethnic Ukulele Case Vintage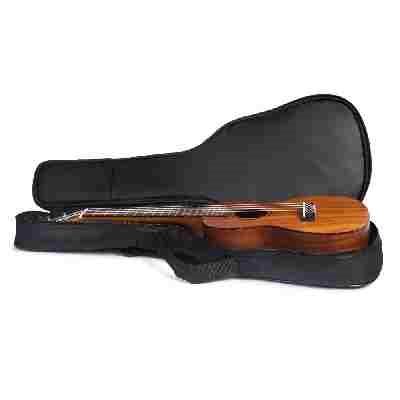 The name says it all. If you are into vintage products then this is something that you will like for sure. There are three different size options and the company named the options with a concert, soprano, and tenor which is only fancy names.
There are more than ten colors available for you to go for. The outside pockets come handy at times.
Hot Seal 10MM Adjustable & Comfortable Durable Ethnic Ukulele Case Bag Bohemia Style
I can promise you that this is the last one of the Hot Seal brand. We are not biased towards this brand but they happen to have some best cases for ukulele that nobody can ignore. This unit has differentiations based on age which we thought is very interesting. The unit comes with picks which is cool.
All in all, this is another Hot Seal product in a positive way.
22.5" Ukulele With Electronic Tuner & Extra Items
This is a unit with a lot of extra details starting from strap, songbook, picks and what not. If you are a fan of gift then you will love this. The unit comes with an electronic tuner which is a sound based one (like the ones that we have as app) so there is nothing much there.
The other items are good to have and more importantly, this is a good tool which you will be happy to have.