We decided to compare Uke Like the Pros online lessons with others, so we purchased access to the courses, spent time strumming along, and reviewed the features. Is it worth the investment? Enjoy this step by step review.
In case you're wondering about the story behind Uke Like the Pros, here's the short version. Terry Carter, a San Diego-based singer, songwriter, ukuleleist, and guitarist, created the site to share his passion with others.
Terry has a Master of Music from the University of Southern California, Los Angeles, as well as a Bachelor of Music from San Diego State University. He has worked alongside numerous musicians including Weezer and Josh Groban, and he has written tracks for shows on Animal Planet, CBS, MTV. Altogether, Terry has 25 years of playing and teaching experience to share.
Terry has been offering online lessons via Uke Like the Pros since 2017. He sends emails and offers in-person interaction weekly. If you prefer an intimate setting and a one-on-one feel plus the opportunity to interact with others, you'll probably enjoy this site.
Uke Like the Pros has an active social media presence, too, so you can enjoy even deeper involvement if you like.
Online Ukulele Lessons for Beginners and Beyond
There are two membership levels to choose from. The standard $12.99/month membership is ideal for beginners who aren't quite sure whether they're ready to commit to a larger investment, or who want to purchase some courses a la carte.
We signed up for the premium level so that we could enjoy access to all the courses including more advanced ones:
Beginning Music Reading Course for Ukulele – This course contains 48 lessons in a step-by-step format. Whether you always wanted to be a sight reader or if you're just now learning about the concept of reading music, you'll get a lot out of this course: With practice, it will make you a better ukulele player. The information it contains can be applied to any instrument, and you can use it to develop yourself as a singer, too.
23 Ultimate Chord Progressions for Ukulele – Just like it sounds, this course offers 23 chord progressions in 23 lessons. Not only do you learn chord progressions in this course, it also contains strum patterns that you can apply in other areas.
Master the Ukulele 2 – This course offers 26 lessons that take your playing well beyond basics, with multiple strum patterns, songs, and styles to learn including blues, rasgueado, classical, and reggae.
The $29.99/month premium membership is better for those who have spent some time familiarizing themselves with the instrument, and who know that they want to increase their skills over time.
It's worth noting here that the premium membership includes all current courses as well as future ones, so there is nothing else to buy at a later date. Yearly memberships are also available for those who like the site and want to stay here.
The price was quoted at $99 / year for standard membership or $299 / year for premium membership when we looked.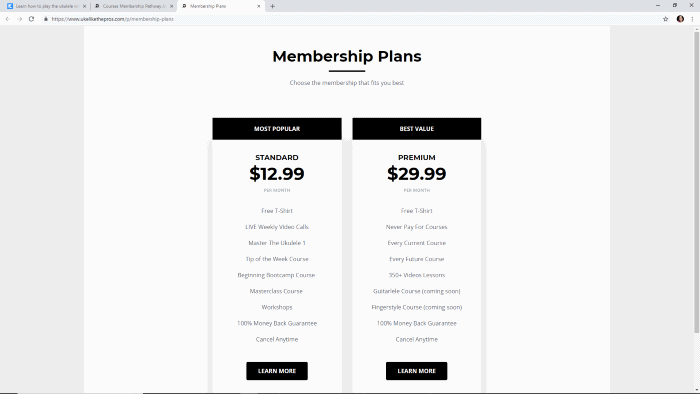 Like many other sources for online ukulele lessons, Uke Like the Pros provides a money back guarantee for users who aren't satisfied, and it allows members to cancel anytime. Everyone who signs up gets a free t-shirt.
What Will You Learn First?
It's up to you! This site has a crisp, well-organized layout that makes it easy to view different options and decide what you'd like to do.
Once you choose a membership level, you'll find that there are a few different options for getting started including a basic "boot camp" aimed at total beginners.
After you get started, you can move on to bigger and better things. All of the courses included in your membership can be found in the library. We signed up for the premium level so that we could enjoy access to all the courses including music reading and ultimate chord progression.
This section is home to the Uke Like the Pros "Tip of the Week," Live Q&A sessions, and more.
Instruction Style and Unique Site Features
Terry's style is easygoing and approachable. He's friendly and professional when encouraging new players to get started, and he does an excellent job of explaining each lesson in terms of what to expect.
Every lesson includes details about how to play the chord or song being mentioned in a step-by-step fashion, with helpful tips on chord progressions and more.
Once you choose a lesson, you can play along online. You can also download mp3s and PDF files with music.
You get a great view of Terry's fingers during each lesson. You can go to full screen if you'd like an even crisper view. Many of the videos are shot in 4K, so they're crisp and clear. Here's an example from one of his Chord Mania sessions. In this lesson, Terry takes a little over three minutes to introduce F Major 7, ensuring you learn all about the chord and how it's used.
All course menus include brief descriptions of the lessons, so you can know what to expect. You can repeat the lessons as many times as you like. Once you're ready to move on to the next lesson, it's up to you to mark your lesson "complete" and move on to the next one. A ticker helps you keep track so you don't lose your place.
How to Get the Best Value from a Uke Like the Pros Membership
If you decide to try these lessons, we recommend that you take a look around and familiarize yourself with the site. See what's available and then choose a course, starting at the beginning and pacing yourself through the lessons one at a time.
If you have questions or want to get a little more in-depth, it's a good idea to get involved with the live Q&A sessions. The first entry on the Q&A page features a link to the scheduled Zoom Meeting, which is held every Friday at 9:15 AM Pacific Time. You can login using any system – Mac, iOS, Linux, Android, or PC. You can even phone in if you prefer. Once you're in the Q&A session, you have in-person access to Terry.
Even if you can't jump online during these sessions, it's a great idea to take a look at the Q&A sessions after the fact to see if questions from other students are helpful. Each Q&A session lasts for about an hour. PDF downloads are available for songs covered during these sections.
The Tip of the Week section is an excellent resource as well. This area provides access not just to the current tip, but also to tips that were recorded in the past. It's a wealth of information that will help you improve your musicianship one well-organized bite at a time.
If you're a complete beginner, we recommend getting started with the Beginning Ukulele Bootcamp. This section features 25 lessons including an introduction to different types of ukuleles, ukulele parts, how to hold your ukulele, how to strum, and a whole lot more. When you're ready, you can move on to another series of lessons that interests you and keep on building skills from there.
Uke Like the Pros: Pros and Cons
Pros
There's a lot to like about this site. We enjoyed the beachy vibe, for starters. Here are a few more things that stand out:
More than 300 lessons in the basic membership area alone
New content is added weekly
Relaxed, easygoing instructor
Of all the features available, we like the weekly Q&A sessions best. It's clear that Terry makes an effort to get to know the people who participate in this forum, and he takes plenty of time to make sure that participants understand the answers to their questions.
Cons
No site is perfect. We don't have any major complaints about Uke Like the Pros, but there are a couple of "cons" to be aware of:
There's no song list.
You have to go into one of the courses to access the search feature, and the search feature only works inside that course. We couldn't find an overall "search" section for the site.
There's no option to purchase individual Skype lessons.
The Takeaway: Are Uke Like the Pros Online Lessons Worth the Price?
The short answer to this question is that it depends what you're looking for!
While there is some content for advanced players here (especially in the Q&A and workshop areas), Uke Like the Pros joins many other ukulele lesson sites in catering mostly to beginners and intermediate players who are looking to expand their skills.
This makes sense as newer players are typically the ones seeking instruction.
At the same time, the site's offerings are far from limited. We can see from the descriptions in the membership area that there are plans to expand soon with a Guitarlele course and a Fingerstyle course.
As these come online and more content aggregates in the Q&A and Workshop areas, more experienced players will be able to challenge themselves and further develop their playing styles. It's also possible to ask anything during Q&A sessions.
We're enjoying the content and even though we're not beginners, we are finding plenty of useful information here including some cool jazz chord melodies. The site looks basic at first but as you explore the menus, you find that there are many hidden gems that can give you some ideas about what to work on next.
The weekly Q&A sessions are a lot like having access to a live instructor, with the added benefit of downloads and the ability to go back and review things you might have missed. The per-month price for the premium membership is on par with what you'll find at some competing sites.
While there are a few "cons" to consider, Uke Like the Pros is designed to give newer players a solid foundation and help them develop more advanced skills once they're ready.
Like some other sources for online ukulele lessons, this site provides a free trial period that makes it easy to see if it's a good match for you. If you think you'd prefer a friendly, one-on-one approach and a simple format, you may enjoy online lessons with Uke Like the Pros.
Click here to get 20% on all courses
Disclaimer:
We are a professional review site that receives compensation from the companies whose products we review
Terry is a contributor and a dear friend of Ukulelemusicinfo.com. We have been collaborating for a while now in order to bring you the best up to date information. Having that said, we did our best to provide an objective point of view during the review. And the truth is that if we did not like Uke and the Pros online lessons we would be writing about it.