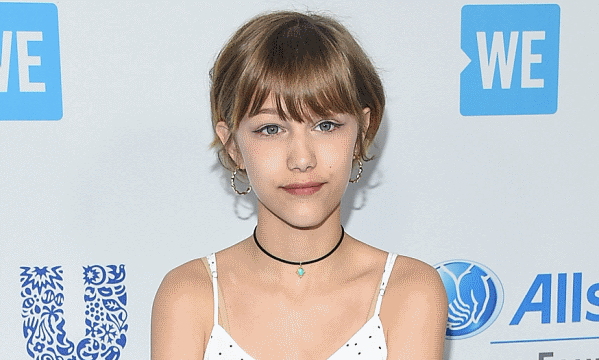 Before Howie Mandel pushed the "golden buzzer" for Grace VanderWaal to advance straight to the America's Got Talent  live performance rounds after singing her original song I Don't Know My Name he said, "You're original that people not knowing your name is so right and so wrong because I think the world is gonna know your name." With over 63 million views on her audition video in YouTube and close to a million YouTube subscribers, the world certainly did.
AGT Audition:

Grace VanderWaal's First Ukulele
Today, if you ask somebody if they know Grace, three things are likely to be associated with her: her blonde bangs, AGT, and her memorable ukulele playing. But did you know that she actually saved up the money she got for her 11th birthday to buy her first uke? In an interview with her by David Sikorski of The Daily Beast after her infamous golden buzzer performance, she revealed that she got interested in playing the uke after being introduced by her sister to Twenty One Pilots. After learning to play the ukulele, she started performing in open-mic events near her home.
AGT Journey
For Grace, her AGT journey has been a great confidence booster. Before it, her friends didn't even know she could sing, let alone she could write incredible songs. But Simon Cowell branded her as the next Taylor Swift, she managed to get an amazing standing ovation streak in all of her performances in AGT and she was adored by the live and home audiences. Having captivated the masses' hearts with her quavering soulful voice, her relatable and insightful songwriting, and her masterful playing of the ukulele, she was hailed the winner of America's Got Talent 2016. Aside from headlining her own show in Vegas, she also took home a million dollars. Being the 12-year old kid she was back then, her simple wish was to get a tree-house! And also donate some of her winnings to music charities.
Tree-house Video:

The VanderWaal Family
Grace and her family live in Suffern, New York. Her mom and dad are Tina and David VanderWaal respectively. She has an older brother, Jakob; and an older sister, Olivia, whom she considers her best friend. Her song Beautiful Thing which she performed during the quarterfinals of AGT was written for her sister. Later last year, she also brought home a new pug puppy she named Franky, short for Frankenstein. The internet has fallen in love with Franky and his irresistible photos posted on Grace's Instagram account.
Style and Songwriting
In a video made by TeenVogue, Grace shared that people usually say she sounds like Sia, Halsey, or Melanie Martinez, which I personally agree with. She has the Sia-hoarseness in her voice, the raw and folk sound of Halsey, and Melanie Martinez' playful style. A combination that marks her vocal style. Most of Grace's songs, as she revealed in an interview with USA Today, are products of imagining what would it be like if she were a movie or book character and wrote a song. At a young age she explores emotions by trying to connect, understand and empathize with fictional characters. With so much sass, she continued, "I'm twelve, that is not my past experiences," referring to the love songs she has written.
USA Today Interview:

The Next Taylor Swift?
Well she might be. At the age of 13, her songwriting is comparable with Taylor's in terms of relatability and catchiness. And she's charming and loved by the younger (and older) audiences. After all, Taylor Swift's biggest market when she was starting out were teenage girls. This might be a big of a compliment, coming from Simon Cowell, but Grace VanderWaal is her own superstar in the making.
Awards and Nominations
VanderWaal has been listed by Billboard magazine in its 21 Under 21 List of Music's Hottest Young Star. She was also nominated for the Best Female Artist category at the International Acoustic Music Awards in 2017, the youngest finalist in the awards' history. And for this year, she was recognized as the Best New Artist in the 2017 Radio Disney Music Award.
Oh Nevermind It's Just Grace
Her AGT experience made her more confident to post videos of her singing covers of her favorite songs. She has over 960 thousand subscribers on YouTube. Some of her lesser known original songs are uploaded in her channel Oh Never mind it's just me / Grace VanderWaal. If you want to bless your ears with Grace's awesomeness, go check her channel out.
Previous EP and A Taste of The Album to Come
After her AGT win, she signed a record deal with Columbia Records and got to work with producer Greg Wells for her Perfectly Imperfect EP. The EP contained studio versions of the songs she performed during the AGT 2016.
Perfectly Imperfect Playlist:

Her new single, Moonlight, dropped on YouTube, iTunes and Spotify yesterday. Slightly deviating from her usual acoustic and calm but soulful formula, this song climaxes to an energetic chorus with beats that will make you dance; going perfectly to her reminiscing lyrics We were dancing in the moonlight. Little Grace VanderWaal has been experimenting new sounds inside the recording studio. Here is a taste of her upcoming debut album she is planning on releasing by September this year.
Moonlight:

The world better watch out. Grace VanderWaal is bound to dominate pop music with her ukulele!